Hello From Little Good Harbour
We'll keep you posted on our latest news, including holiday packages, special hotel rates and more.
From time to time, we will also update you on exciting events and things to do in Barbados.


Latest News
Enjoy breakfast and dinner on us at The Fish Pot Restaurant!
The Fish Pot Restaurant is a popular location for a casual breakfast or a delectable dinner with both locals and visitors to Barbados. Set on the tranquil, north west coast of the island, the Fish Pot offers a world-class, culinary experience created by our team of local chefs.

Guests of Little Good Harbour Hotel who stay during the period 8 October, 2015 - 15 December, 2015 for 7 nights or more in one of our charming, One Bedroom Garden Cottages are eligible for complimentary, continental breakfast and a 3 course dinner daily!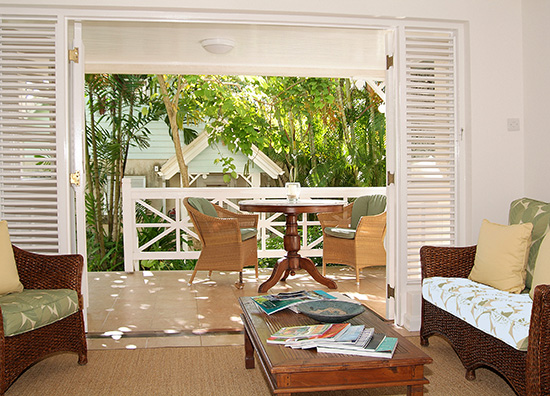 With the Barbados Food, Wine and Rum Festival happening from 19 - 22 November, this offer is ideal for the "foodie" within all of us! For more information on the Festival, visit Barbados Food & Wine and Rum
This offer is valid for a limited time only through our website by using Promo Code FREEHB15 at the time of booking or through any of our travel partners.
Or contact us at info@littlegoodharbourbarbados.com or (246)439-3000 for more information.
Top 10 Secret Hotel in the Caribbean by Conde Nast Traveller
For the full article, please visit Conde Nast Traveller
Islanders travel miles to the old seaside fort in the fishing village of Shermans to eat at this hotel's restaurant, The Fish Pot. The most sought-after seats in the house are those overlooking the sea, particularly at sunset when you can order lobster, grilled prawns and mahi-mahi while watching the sky slowly turn from fuchsia to mauve. But not many regulars have cottoned on to the New England-style, sea-facing wooden cottages in the lush tropical gardens (there are also a handful of suites above the restaurant). Each has a wraparound veranda, a fully equipped kitchen and a light, airy living room filled with books and Barbadian designs. The teak beds upstairs are enormous and the bathrooms small but perfectly formed. Breakfast isn't always quite as spot-on as dinner, but the banana bread - freshly baked each morning - is delicious. There's a tiny spa and two blissful pools, the smallest in the style of a miniature Roman bath with stone columns and water features. Laze in the sun with the resident tabby cat or clamber over the rocky headland to search out hidden coves and glimpse the rock-star mansions that back onto the bay (watch out for the tide, which comes in quickly so that by early afternoon there's only a narrow strip of white sand peeking out from under the shallows). On Friday nights, the nearby Six Men's fish market is the place to go for ice-cold Carib beers and grilled meat, eaten with greasy fingers while perched on wooden benches.
BOOK IT
Essential Hotel Collection (+44 20 8614 0077; www.essentialhotelcollection.co.uk). Doubles from about £195

This small, low-key, relaxed and out of the way property lies on Barbados' sleepy north-west coast. It offers spacious, cottage-like suites equipped with full kitchens, and dining in The Fish Pot, a casual-chic beachfront restaurant that is one of the most appealing places to eat on the island.
Fred Mawer - The Telegraph UK - UK
My husband, adult daughter and I had an absolutely wonderful dining experience here last evening. The food and service were excellent. It was lovely to have dinner with the sound of ocean waves in the background. We were in an alcove right on the beach! The dessert, cocoanut crumble, and also lemon pie were I think the best I've had anywhere. A very pleasant, casual atmosphere with top drawer food and service.
Elizabeth Hughes - Canada
Thank you so much for a wonderful stay at Little Good Harbour. We simply enjoyed everything about our holiday from the moment you greeted us with a welcoming Rum Punch to the last delicicious lunch on the beach in the Fish Pot. You have built a wonderful business with care and attention to detail from the unfailing courtesy and 'can do' attitude of your staff to the beautiful local art and furnishings in the villas and gardens. Having never visited Barbados before we were so happy that we experienced you and the north of the island first. We will be back and we will have no hesitation about recommending you to everyone we know!
Chris & Sharon - United Kingdom
The Best restaurant on the Island! We visit Barbados every year and visit the Fishpot at least 6 times for dinner - it is a MUST! The food is really fabulous, the location is unbeatable and the staff are incredibly nice. The perfect spot for a relaxing evening - you will love it!!
Lynne and Adrian - England
Our Perfect, Little Hideaway
We love coming to Little Good Harbour year after year and it just keeps getting better. Graham and Trevor are really the most welcoming hosts and we will definitely be coming back - next time with the children. Comfortable rooms, excellent staff, perfect level of service - could not ask for more.
Giles - United Kingdom