Hello From Little Good Harbour
We'll keep you posted on our latest news, including holiday packages, special hotel rates and more.
From time to time, we will also update you on exciting events and things to do in Barbados.


Latest News
East Meets West Package featured by Blue Bay Travel
Barbados isn't just what you see in the glossy leaflets. There's a flourishing island underneath the media that's filled with astonishing landscapes and hidden holiday gems. However, the search off the beaten track can sometimes feel a little daunting.
The good news is we've found the best way for you to enjoy the real Barbados, and it's a neat little package known as East Meets West. In 7 glorious days you'll see the highlights of the East Coast and the West Coast of Barbados. Here's what this unique holiday involves:
• 4 Nights in a One Bedroom Garden Suite at Little Good Harbour
• 3 Nights in a Coastal or Ocean View Suite at The Atlantis Hotel
• Daily Continental Breakfast
• Dinner nightly at The Fish Pot at Little Good Harbour, one of the best restaurants on the Island
• Dinner nightly at The Atlantis Hotel
• 3 Day Car Hire, so you can explore the island
• Prosecco in-room on arrival at 1st hotel
• Welcome drink on arrival at 2nd hotel
So, lets break down East Meets West to see why it's our recommend gateway into the real Barbados.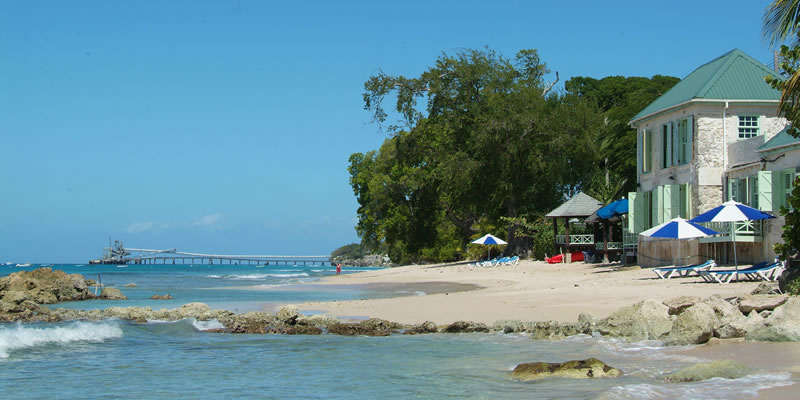 Little Good Harbour and the West Coast
Little Good Harbour is the honest Barbados, set within a restored 17th century fort in the fishing village of Shermans. There's a charm to Little Good Harbour that can't quite be captured in words, but I'll try regardless. It's one of the few remaining family run hotels in Barbados, so the hospitality has a distinctly welcoming feel that eludes many modern holiday destinations. Most West Coast hotels are new, polished, commercialised Goliaths, and despite their generally excellent facilities it's deeply refreshing to see a truly Bajan hotel that still delivers unprecedented excellence.
The all-suite format adopted by Little Good Harbour, coupled with the fabulous tropical garden view with glimpses of the ocean from your terrace (or balcony), creates genuinely peaceful island escapes. Fully equipped kitchens give you as much independence as you like, and four poster beds add a palatable touch of finesse in keeping with the hotel's colonial origins. The East Meets West package serves up 4 nights in a One Bedroom Garden Suite, giving you plenty of time to enjoy the facilities and see the sights on the west coast.
While we're on the subject, the west coast of Barbados is awash with trendy bars, exquisite restaurants and stylish boutiques carrying many of the world's leading retail brands and luxury goods, so you can get a taste of the new Barbados alongside thetimeless charisma of Little Good Harbour.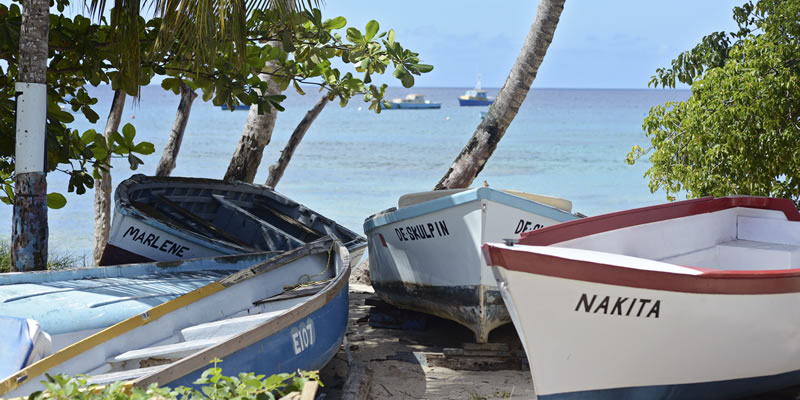 The Fish Pot
Unlike most hotel restaurants, The Fish Pot at Little Good Harbour is famous in its own right. The Fish Pot built its reputation on an unyielding commitment to fresh food and local seasoning, with a special interest in seafood. The open-air seafront setting adds a tang of saltiness to the air that vouches for the promise of freshness, including speciality dishes such as Lobster ravioli, pan-fried Mahi Mahi, and oven-roasted Sea Bass. The views are spectacular, and the coral stone walls help to distil an unprecedented level of calmness. This quest for culinary supremacy has earned The Fish pot a TripAdvisor Certificate of Excellence, and seen it named among USA Today's 10 Best Barbados Restaurants.
The East Meets West package includes 4 Meals at the Fish Pot, one for each night of your stay. How many other hotels can serve up award-winning beachfront dining? Not many, take our word for it.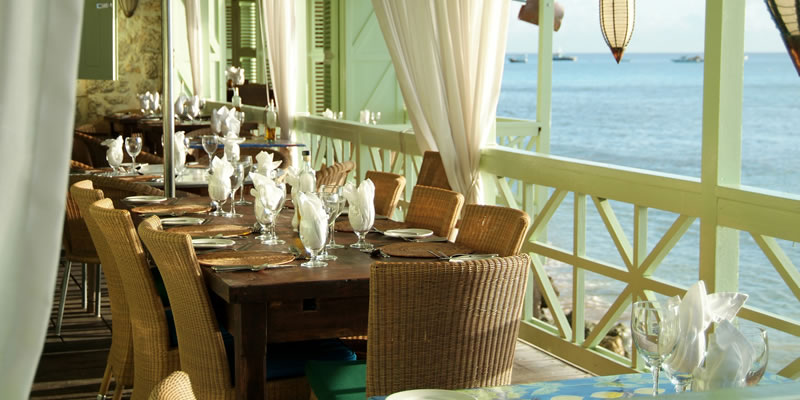 The Atlantis Hotel and the East Coast
The Atlantis Hotel is as boutique as it gets, with just 10 chic ocean-facing suites. This East Coast hotel, sister to Little Good Harbour, overlooks the powerful Atlantic Coast. Dating back to 1883, extensive refurbishments saw The Atlantis Hotel reborn in 2009 as a sequestered hideaway; a place where you can see Barbados from a new and dramatic perspective. The East Coast is distinctly different from the rest of island, distinguished by its rugged terrain and lush hillsides. Smaller, colourful villages like Tent Bay (home to The Atlantis Hotel) come framed by coconut trees and banana plantations. It's a great place to explore, for the landscapes and local towns are full of opportunities.
Just imagine throwing open your bedroom shutters to the rugged Atlantic coastline or ocean waves, before slipping back into the luxury of your four poster bed and watching the Caribbean sunrise. The Atlantis Hotel knows how to create unpretentious luxury and empowering exclusivity, and your 3 nights in a Coastal orOcean View Suite will be spent enjoying the lay of the land and lounging in the pool - or even surfing, if you're the adventurous type.
The Atlantis Restaurant also has a bit of a reputation as the place to enjoy a Sunday lunch, with a wine list personally selected by the owner to ensure quality. Much like The Fish Pot, the chef takes great pride in using locally sourced seafood and meat. The East Meets West package treats you to dinner nightly at The Atlantis Restaurant, so you can end every day with a good meal and a fine beverage. Life doesn't get any better.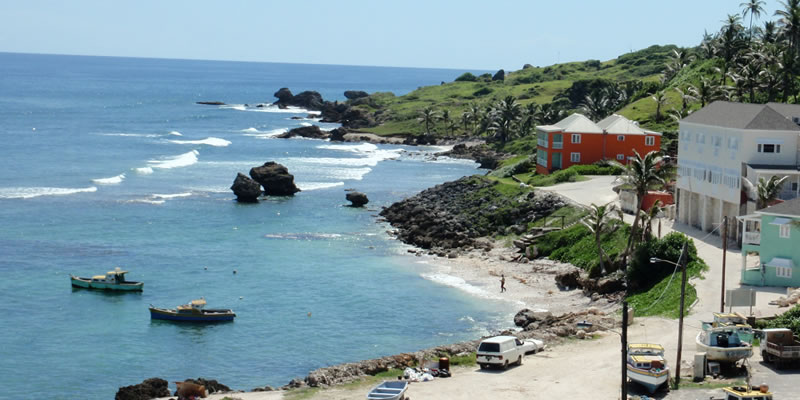 Free 3 Day Car Hire
The free car hire included in East Meets West is a real gift. Barbados is remarkably easy (and safe) to get around, and the H2 highway makes the north, south, and west of the island very easy to access. The eastern side of the island is peppered with smaller, country roads renowned for their stunning exotic views. There are a number of quality road trips you could can keep in your arsenal:
• See the beaches beyond Bridgetown: Foul Bay, Bottoms Bay, and Crane Bay – the latter widely considered one of the best beaches in the Caribbean.
• Go Speightstown, home to the Arlington House Museum and some classic Bajan architecture, and pass through the rolling sugar cane fields to reach St Nicholas Abbey, the island's oldest plantation house.
• Head east to Bathsheba and have your breath taken by the strange shapes of thesea-weathered rocks, and then head a little inland to the Andromeda Botanic Gardens.
Also, don't be afraid by all the honking that goes on: car horns are often used as a way of saying "hello" or "thank you" to other drivers, so don't sweat it.
Top tip: Want to get an idea of the routes around Barbados before you go? Check outthis super useful online road atlas created by Skyview.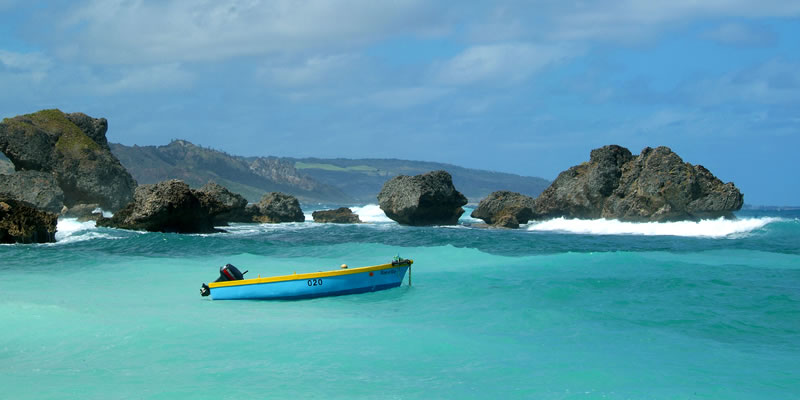 Discover the real Barbados
If you want to get a true feel for Barbados then you should seriously consider the East Meets West package. You can make that dream Bajan adventure a reality, and you'll see things from parts of the island that even the tourist guides scarcely know.
The real Barbados is within your grasp Holidaymakers, so make it happen.

Our Perfect, Little Hideaway
We love coming to Little Good Harbour year after year and it just keeps getting better. Graham and Trevor are really the most welcoming hosts and we will definitely be coming back - next time with the children. Comfortable rooms, excellent staff, perfect level of service - could not ask for more.
Giles - United Kingdom
This small, low-key, relaxed and out of the way property lies on Barbados' sleepy north-west coast. It offers spacious, cottage-like suites equipped with full kitchens, and dining in The Fish Pot, a casual-chic beachfront restaurant that is one of the most appealing places to eat on the island.
Fred Mawer - The Telegraph UK - UK
Thank you so much for a wonderful stay at Little Good Harbour. We simply enjoyed everything about our holiday from the moment you greeted us with a welcoming Rum Punch to the last delicicious lunch on the beach in the Fish Pot. You have built a wonderful business with care and attention to detail from the unfailing courtesy and 'can do' attitude of your staff to the beautiful local art and furnishings in the villas and gardens. Having never visited Barbados before we were so happy that we experienced you and the north of the island first. We will be back and we will have no hesitation about recommending you to everyone we know!
Chris & Sharon - United Kingdom
Hello from higher latitudes! A week ago we were on a beach, and now I'm commuting to work in a snow storm. Such is life! Please pass along our warm thanks to your team. From our inviting villa, to the delicious Fish Pot and down to the charming floating dock and Capt. Dwayne. Both you and Andrew offered us what a corporate chain cannot- a stylish home away from home with an added personal touch. From our greeting at the beginning to our warm goodbye at the end, we were well taken care of and that made our Dad's birthday trip a perfect one. Little Good Harbour truly reflects the warmth and charm of Barbados. I look forward to seeing all of you again, Leslie
Leslie - UK
The Best restaurant on the Island! We visit Barbados every year and visit the Fishpot at least 6 times for dinner - it is a MUST! The food is really fabulous, the location is unbeatable and the staff are incredibly nice. The perfect spot for a relaxing evening - you will love it!!
Lynne and Adrian - England