Hello From Little Good Harbour
We'll keep you posted on our latest news, including holiday packages, special hotel rates and more.
From time to time, we will also update you on exciting events and things to do in Barbados.


Latest News
TripAdvisor Hall of Fame Award and Certificate of Excellence 2015.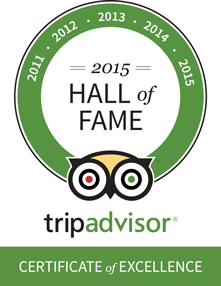 LITTLE GOOD HARBOUR HOTEL AWARDED TRIPADVISOR CERTIFICATE OF EXCELLENCE FOR FIVE CONSECUTIVE YEARS
AND
THE FISH POT RESTAURANT AWARDED THE CERTIFICATE OF EXCELLENCE FOR 2015.
St.Lucy, Barbados – 20th May, 2015 – Little Good Harbour Hotel & Spa today announced that it has been recognized as a TripAdvisor® Certificate of Excellence Hall of Fame winner and the hotel's restaurant which is famous in it's own right achieved the Certificate of Excellence 2015 Award. The Certificate of Excellence award celebrates excellence in hospitality and is given only to establishments that consistently achieve great traveler reviews on TripAdvisor. The 'Hall of Fame' was created to honor those businesses that have earned a Certificate of Excellence for five consecutive years.
Being awarded the TripAdvisor Certificate of Excellence five years in a row and inducted into the 'Hall of Fame' is a true source of pride for the entire team at Little Good Harbour Hotel and we'd like to thank all of our past guests who took the time to complete a review on TripAdvisor. There is no greater seal of approval than being recognized by one's customers. With the TripAdvisor Certificate of Excellence based on customer reviews, the accolade is a remarkable vote of confidence to our business and our continued commitment to excellence.
"Winning the TripAdvisor Certificate of Excellence for five consecutive years is a remarkable feat. TripAdvisor is pleased to induct five-time award winners into the 'Hall of Fame'," said Marc Charron President, TripAdvisor for Business. "By putting a spotlight on businesses that are focused on consistently delivering great service to customers, TripAdvisor not only helps drive an improvement to hospitality standards around the world, it also gives businesses both large and small the ability to shine and stand out from the competition."
When selecting Certificate of Excellence winners, TripAdvisor uses a proprietary algorithm to determine the honorees that takes into account the quality, quantity and recency of reviews and opinions submitted by travelers on TripAdvisor over a 12-month period as well as business's tenure and ranking on the Popularity Index on the site. To qualify, a business must maintain an overall TripAdvisor bubble rating of at least four out of five, have a minimum number of reviews and must have been listed on TripAdvisor for at least 12 months.

Hello from higher latitudes! A week ago we were on a beach, and now I'm commuting to work in a snow storm. Such is life! Please pass along our warm thanks to your team. From our inviting villa, to the delicious Fish Pot and down to the charming floating dock and Capt. Dwayne. Both you and Andrew offered us what a corporate chain cannot- a stylish home away from home with an added personal touch. From our greeting at the beginning to our warm goodbye at the end, we were well taken care of and that made our Dad's birthday trip a perfect one. Little Good Harbour truly reflects the warmth and charm of Barbados. I look forward to seeing all of you again, Leslie
Leslie - UK
Our Perfect, Little Hideaway
We love coming to Little Good Harbour year after year and it just keeps getting better. Graham and Trevor are really the most welcoming hosts and we will definitely be coming back - next time with the children. Comfortable rooms, excellent staff, perfect level of service - could not ask for more.
Giles - United Kingdom
My husband, adult daughter and I had an absolutely wonderful dining experience here last evening. The food and service were excellent. It was lovely to have dinner with the sound of ocean waves in the background. We were in an alcove right on the beach! The dessert, cocoanut crumble, and also lemon pie were I think the best I've had anywhere. A very pleasant, casual atmosphere with top drawer food and service.
Elizabeth Hughes - Canada
This small, low-key, relaxed and out of the way property lies on Barbados' sleepy north-west coast. It offers spacious, cottage-like suites equipped with full kitchens, and dining in The Fish Pot, a casual-chic beachfront restaurant that is one of the most appealing places to eat on the island.
Fred Mawer - The Telegraph UK - UK
Thank you so much for a wonderful stay at Little Good Harbour. We simply enjoyed everything about our holiday from the moment you greeted us with a welcoming Rum Punch to the last delicicious lunch on the beach in the Fish Pot. You have built a wonderful business with care and attention to detail from the unfailing courtesy and 'can do' attitude of your staff to the beautiful local art and furnishings in the villas and gardens. Having never visited Barbados before we were so happy that we experienced you and the north of the island first. We will be back and we will have no hesitation about recommending you to everyone we know!
Chris & Sharon - United Kingdom